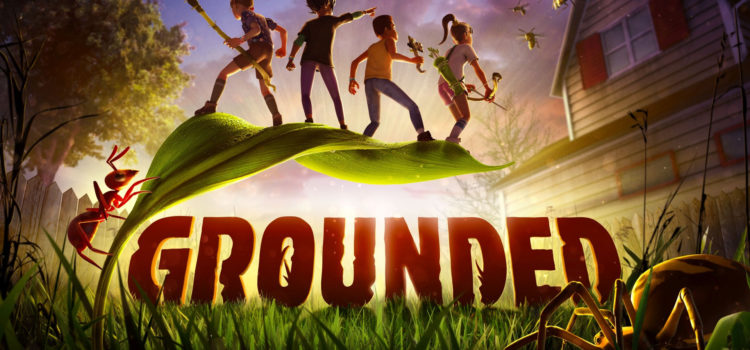 Grounded
There's a new survival-themed Xbox game on the block. Obsidian Entertainment has recently released Grounded in July 2020 for early access. But if you've missed your chance to access it don't fret – full release is expected in 2021! So you don't have too long to wait. It features action-packed and adventured filled gameplay whilst you endure a strenuous fight for survival. One thing is for sure, this game isn't for the weak-hearted. This review will give you all the information you need so you know what to expect when purchasing this game. If you haven't already got your hands on a copy, after reading this you'll want to.
Theme
Anyone remember the popular 1989 science fiction American film 'Honey, I Shrunk the Kids'? by Joe Johnston. Well, this Xbox game undoubtedly shares a similar concept. You will wake up on an unknown island – well that's what you think initially. But you'll soon realise that you're in fact in your back garden. And you've been shrunken to the size of a pea. Everything around you looks gigantic (even ants). Unfortunately, the only machine that can transform you back is broken. You'll become prey in the eyes of the usual garden critters that seem insignificant… yikes! But don't worry if you're quick and smart enough you can escape without being harmed and fix the machine. Luckily you've got a trusted robot companion who will give you tips and tricks on what to do. He will suggest building shelter for protection and many other helpful tips along the way.
The adventure that you embark on will be filled with danger so you'll need to find tactics to survive. The game features an incredible design with beautiful 3D graphics and animations. All of the colours of the garden blend together beautifully. So despite the gameplay being rather terrifying at times, it's also very aesthetically pleasing. The slogan of the game is 'go big, or never' and once you start to play you'll understand why. You either need to fight for survival by utilising your weapons and destroying all man-eating bugs that you encounter. Otherwise, you will simply die. The choice is yours and the outcome of the game will all depend on your actions. So, have you got the fight? Grab your weapons you'll definitely need them for protection as you get closer to returning to your original form.
Gameplay
You can play a single play or multiplayer. So if you want to play alongside a friend or two you can! Within this game, there are four characters which each have their own characteristics and dialogue. At the beginning of the game, you will be able to choose out one character from Max, Willow, Pete or Hoots. You will then be able to choose which level of the game from 'mild', 'medium', 'whoa!' or 'creative'. We suggest mild for first-time players (or younger children)! You need to head towards the gigantic binoculars to get back to your original size. But of course, you need to face many obstacles first. Pick up anything you see, it will be added to your backpack. And you might need it at any point throughout your adventure.
The best thing about Grounded that pretty much anyone can play it. A lot of Xbox games are off-limit to younger children because of the graphic and violent gameplay. However, in this game, you will just be up against gigantic bugs which definitely isn't very realistic. It's a game for the adrenaline and thrill-seekers. If you love survival-themed typed games then check out some of Obsidian Entertainment other games such as The Outer Worlds and Armored Warfare. And if you fancy an added adrenaline rush you can even check out casinosjungle.com for survival-themed games for cash. You will find games such as Vampire Senpai which you can practice in free mode for. What are you waiting for? fill your adventure-seeking fantasies.
Grounded full release game review